Exploring Etosha National Park — Namibia
The different illusions created by the landscape, and its uncanny beauty can get to you if you don't remember your place.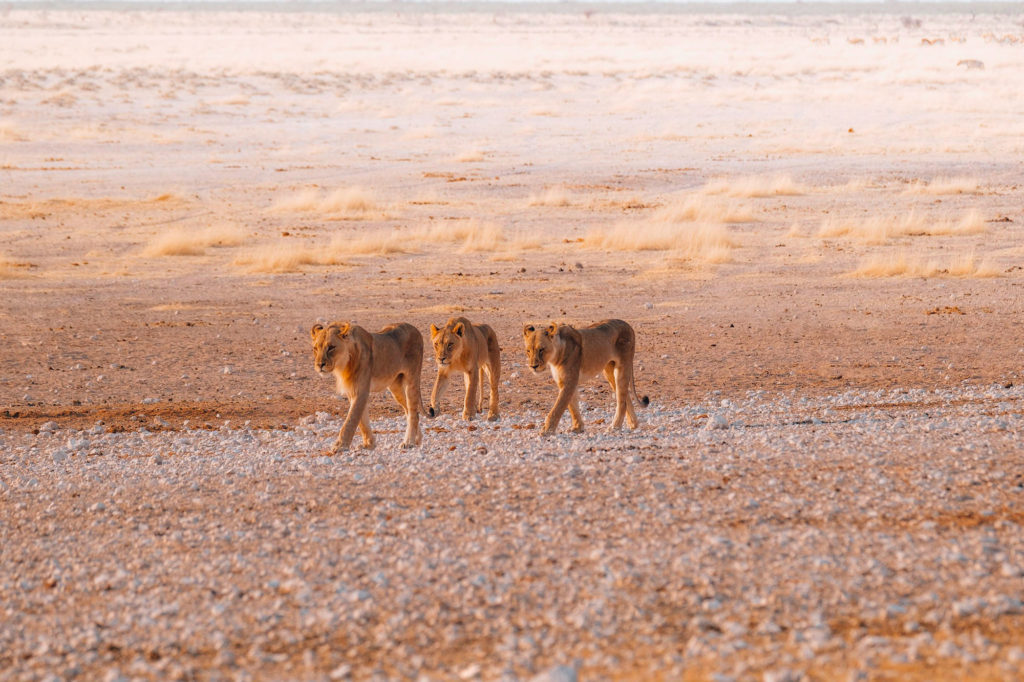 Coalition of Lions
A coalition of lions walk towards a waterhole in Etosha National Park
Etosha National Park located in northwest Namibia is one of Africa's biggest parks and one I'd dreamed of visiting since a child living in Swaziland. Everyone spoke of the Serengeti and the Kruger, but none were as intriguing to me as Etosha, because it was also the aridest of all, it had huge concentrations of game, but little was boasted about Namibia. So at the end of 2021, I decided to go camping there, despite all the changing regulations.
As I entered the park, I quickly learned that the abundance of wildlife and the tension created by the dryness and the heat would guarantee some good shots.
However, due to the heat, it wouldn't be an easy expedition to record due to the distortions caused by the heatwaves and the dust in the air.
In any case, I let my child-like wonder guide me through the following days, because this was after all the inner child's dream to come here. And boy, did it pay off.
Even if Etosha didn't have the abundance of wildlife, the golden plains, the mirages of the clay pan, and the white rocky roads were more than enough to create the sense that I had stepped into another world.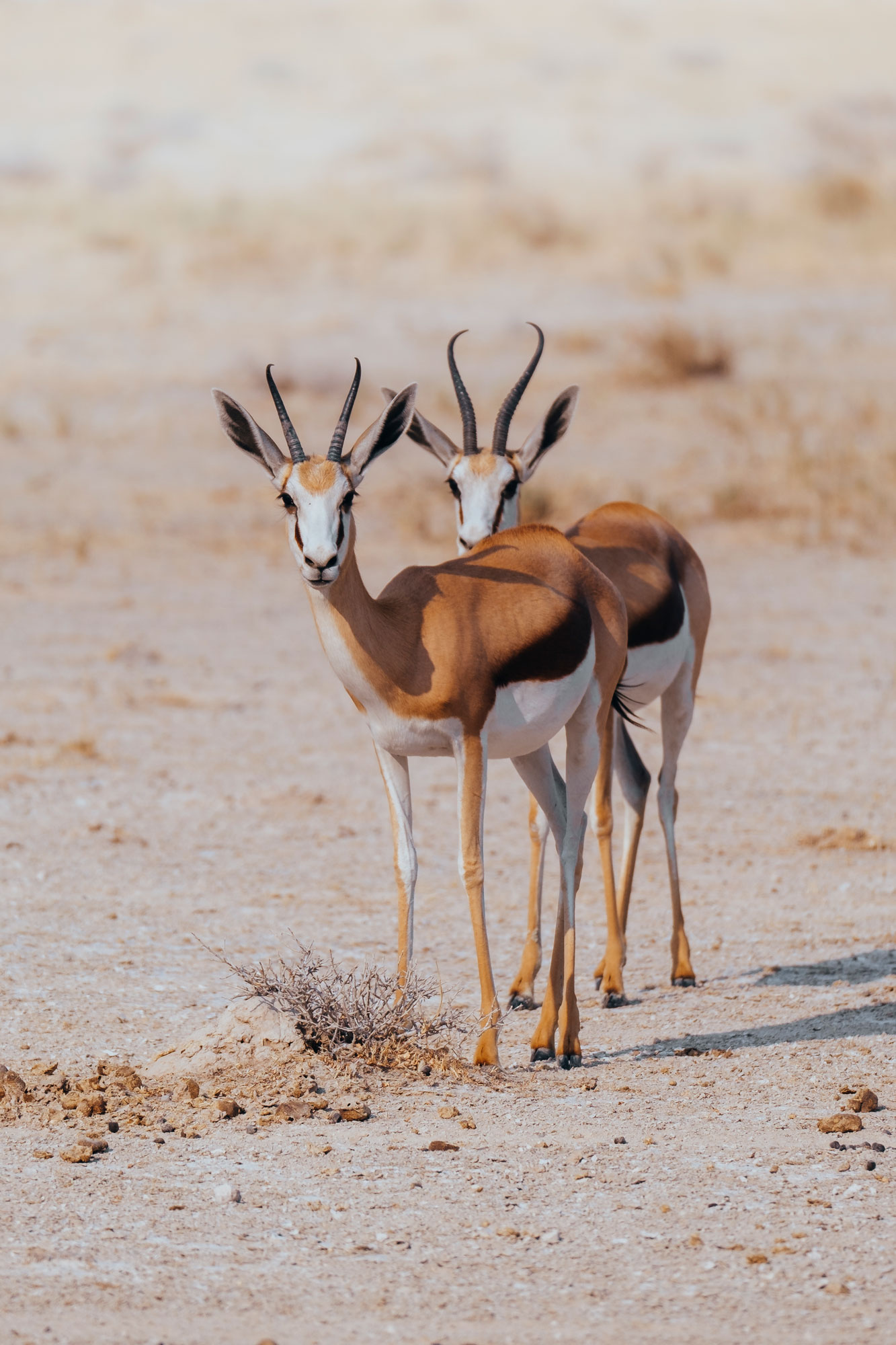 Springbok
The springbok is a medium-sized antelope found mainly in southern and southwestern Africa.
The sun can be so harsh in Etosha and the surfaces so bright, that shooting with a polariser is almost a must. Polarized sunglasses can also improve the quality of your spotting. Although it's easiest to purposefully spot a particular species, instead of stopping at all sightings, as they can become very repetitive due to their abundance.
On a normal day, you will come across elephants, lions, many different species of antelope, black rhino, zebra, giraffe, hyena, wildebeest and many different bird species such as bustards and kites. The less common however are cheetah and leopard, as their populations have declined massively due to human-wildlife conflict found in most of Africa. Although The Republic of Namibia is considered to be the country with the highest density of leopard and cheetah, these big cats live in such large conflict with ranch owners and farmers that as a total, they simply shy away from humans. And out in the open, they also become easier targets to other predators, thus enhancing their instincts and keeping their lives to themselves.
A Black Rhino and her calf
A Black Rhino and her curious calf. Etosha doesn't de-horn their Rhinos.
The Etosha Pan
A Black Backed Jackal observes cautiously, as it goes for a drink in one of the few waterholes in the Giant Etosha Pan.
Zebras in Etosha
Two Zebras enjoying the Namibian sun.
Tree in the Veld
A tree in the veld in Etosha, with the vast Etosha pan in the background.
Etosha National Park can be a truly humbling experience, because of its size and its vast landscapes. When driving around for long hours, the brightness and the different illusions created by the landscape, and its uncanny beauty can get to you if you don't remember your place.
And it's important to respect all park guidelines and limits, especially your own, in order to not compromise wildlife or yourself.
Young Male Lions in Etosha
Two young male lions attentively observe the horizon for the presence of other lions and hyenas.
We made it out as planned and arrived at our first location.
As the sun slowly crept over the dune corridor, the spectacle of colors and shadows started again, and I got active again in this new playground.
It isn't possible to portray the actual size of the dunes in one picture, but they're so big and far from the road that some it can actually take around 10 minutes to reach them on foot. And that's why so many people opt to climb Dune 45 because it's the closest and it has a designated parking area for cars.
I walked towards one of the dunes and as I reached half way with my camera programmed for an interval shoot I looked back at my guide, I think he was happy to see how excited we were to be there. He later told us that he felt at home in the desert and was generally always as excited to go back to Sossusvlei as we were. It made sense.
Elephants in Etosha
A herd of Elephants makes its way to a waterhole in the central area of the park.
Spotted Hyena
A Hyena searches for food in the early morning in Etosha
White Elephants of Etosha
Also known as white elephants, they acquire their color from the white clay used in their bathing ritual.
Planning a trip to Etosha
Etosha offers different experiences to everyone, depending on a few factors such as lodging, if you're guided or self-driving, and even time of year.
These should be taken into consideration depending on your type of personality and the time you have available to spend in the park.
I spend 5 days in the park, and being the adventurous type and also a photographer, I opted to stay in camps, guided by one of the best experts who know the park-like nobody else, and during the month of November, which is one of the driest; increasing the chances of having good sightings with little or no obstructions.
Little did I know though, that the public campsites are actually the best in the world, offering clean hot water, proper cooking spots and swimming pools where you can relax if you take an afternoon break.
Etosha National Park also offers rondavel styled chalets and other self-catering options too for those who still prefer independence, but cannot give up on safety and comfort.