Exploring the Sossusvlei Dune Corridor — Namibia
Until the last day, I had a hard time believing my own eyes. We come here with expectations about a place, but this desert exceeds them to the point that the mind simply can't process this reality. It's more than breathtaking, it's a dream…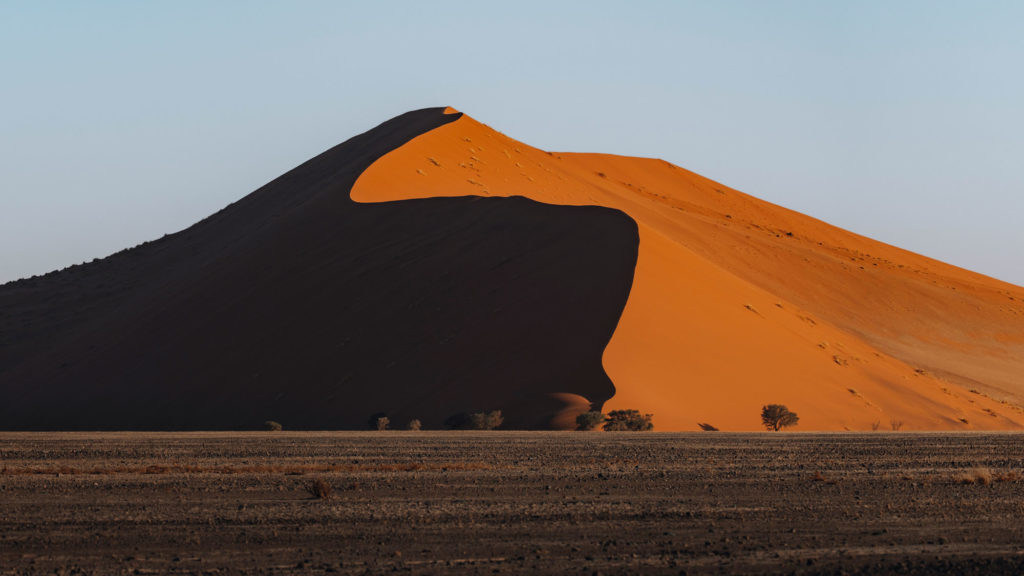 Red Dune
Sossusvlei Dune at sunset
After driving through the Spreetshoogte Pass which already gave us an extraordinary view of the surreal size of the desert, it became harder and harder to put awe into words, so the car went silent for most of the last length of the trip.
It was the middle of the afternoon, and it was obvious that the sun here was unforgiving. Due to its position, it was hard to make out the true size of the dunes because the whole landscape seemed flat, was extremely bright and took on a pink tone.
I still didn't quite know what to expect about the place, only that it would be a very difficult place to shoot due to all the factors I was already looking at; heat, light, sand and dust everywhere… but I was fortunate enough to be using weather sealed equipment, which, supposedly should be able to take it?
We pitched up our tents at camp and made it out before the last rays were swallowed by the desert. Seeing the different colours playfully change into different shapes as the sun finally set was mesmerising. Everything inside me changed then and there; it was like becoming 8 years old again and seeing God at the same time, all at once.
Over dinner, and as usual, we discussed the plan for the next day, to ensure I'd get the shots I went there to get. I didn't have equipment for astrophotography, so it was imperative to leave the Sesriem Campsite before first light and make the 45Km drive to the first location to catch the break of dawn.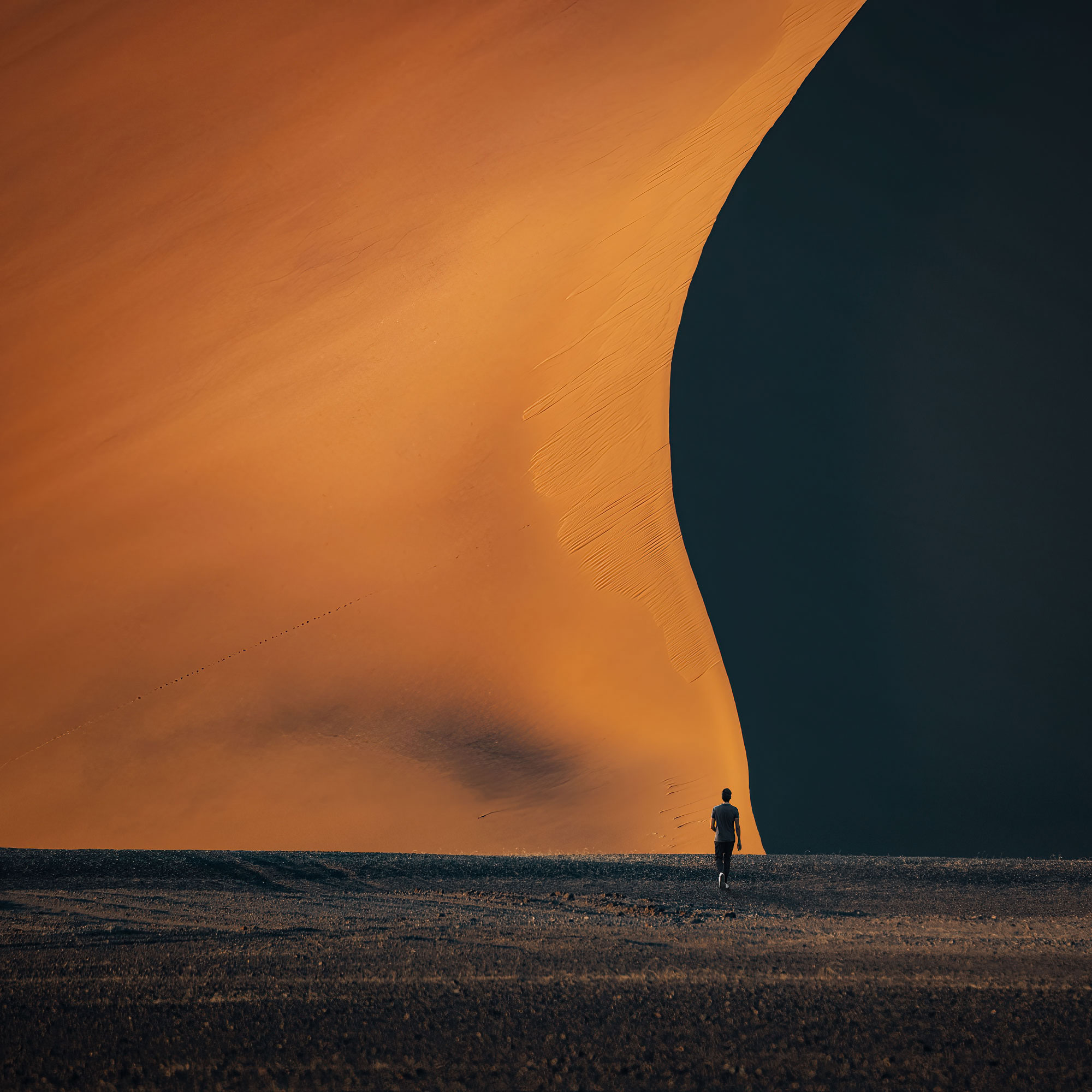 Walking towards a dune at sunrise
For scale, it's possible to see just how tall the dunes are, in this photo of myself walking towards the dune.
We made it out as planned and arrived at our first location.
As the sun slowly crept over the dune corridor, the spectacle of colors and shadows started again, and I got active again in this new playground.
It isn't possible to portray the actual size of the dunes in one picture, but they're so big and far from the road that some it can actually take around 10 minutes to reach them on foot. And that's why so many people opt to climb Dune 45 because it's the closest and it has a designated parking area for cars.
I walked towards one of the dunes and as I reached half way with my camera programmed for an interval shoot I looked back at my guide, I think he was happy to see how excited we were to be there. He later told us that he felt at home in the desert and was generally always as excited to go back to Sossusvlei as we were. It made sense.
Dune 45 Sossusvlei
A group of people starting their early climb up Dune 45
Dune 45 Sossusvlei
One of the few trees alive at Dune 45.
We made it to the mythical Dune 45, but unlike 90% of the world population who visit and want to climb it, I was there to shoot it. Climbing dunes is something I wasn't interested in doing because I couldn't afford to lose the light.
I think that by the time anyone making their climb reaches the top to scout for a shot (which in retrospect after climbing Elim Dune near the camp on the previous afternoon never actually happens because it just keeps going up), the sun would already be too high, it would be scorchingly hot and they'd already be dead exhausted. I opted to shoot dunes from ground level, seeing that I couldn't fly a drone.
Oryx in Sesriem
A Southern Oryx makes its way towards the mountains, with the dune corridor in the Background
Dune layers
Layers of light, texture and shadows cast o the dunes at sunset
The Namib Desert might seem barren and void of life, but it's home to some of the most interesting and intriguing species I've ever seen. I expected it to be dead silent out here, and at a first glance, it actually is.
But remembering back to when I was on Elim, after listening carefully, I quickly came to the conclusion that I wasn't alone. The faint sound of birds, looking for reptiles, arachnids and insects that own the dunes above and below start to become apparent.
There's also a whole plethora of grasses and shrubs that grow everywhere, and a type of watermelon called the Namib Tsamma that makes a delicious dessert for the Southern Oryx; one of their main sources of water out here.
I wasn't lucky enough to see an actual brown hyena here, but their footprints are also everywhere. So my advice to anyone coming here would be to stay alert, because you can run into anything.
Mountain covered by sand
One of the secrets for the height of the dunes; they have mountains under them.
It's really easy to fall in love with Sesriem and the Sossusvlei Dune Corridor because there's always something wonderful to see or to do. I came with the purpose of gathering content for my agency and ended up flying in a balloon, satisfying my inner child and having some of the best days of my life. It's so incredible and photogenic that I shot almost 1 TB of material here.
Until the last day, I had a hard time believing my own eyes. We come here with expectations about a place, but this desert exceeds all of them to the point that the mind simply can't process this as a reality. It's more than breathtaking, it's a dream.
Sunset at Elim
Dust filling the air as the last sun rays strike a mountain near Elim Dune, Sesriem. 
The Last Rays
A lonely tree with the Sossusvlei dunes in the background.
The Sossusvlei Dunes in the Namib Desert is a place that I highly recommend for anyone who loves a different type of landscape, but who most importantly loves places that are highly scenic. It's hard do not to fall into the trap of shooting everything you see, at all times, because as the light changes, so do the colours and the shapes.
The same landscape will look like a completely different place at different times of the day, and that's why I recommend planning shots before you go out. And for that reason, I highly recommend going out with The Expedition Society or booking your lodges in the Sossusvlei region, and experiences such as the one with Namibsky before you travel.
If you don't, you might just miss out on the experience of a lifetime.